When released from prison in Tennessee, a man can receive up to $30 if he does not have any money.  If he is released on probation or parole he is eligible for a non-transferable ticket for the least expensive means of transportation to his approved parole or probation residence when private transportation is not available.  Many men have burned bridges. Employment possibilities are limited due to a lack of skills and a criminal record. Many become homeless, and others end up living with ex-felons and addicts. Too often, these men fall back into the same behaviors that landed them in prison.
Men of Valor's Aftercare and Re-Entry program allows participants who are released into the discipleship academy to immediately overcome these daunting obstacles. The participants are picked up at the prison door by one of our staff or volunteers upon release. Men of Valor welcomes them into a home and provides for their basic needs: clothing, groceries, transportation, assistance in securing identification, and part-time employment during their first six months. The one-year program is aimed at giving these men the support, skills, and accountability they need to live independently and succeed in the community. Men who complete Men of Valor's year-long Aftercare and Re-entry program, have a recidivism rate of below 15%.
Aftercare and Re-Entry programming includes:
One on One Mentoring

Discipleship Classes

Training in biblical values and morality

Job Readiness Training

Boundaries – Setting and Maintaining

Attitude and Character Study

Journey to Freedom

Know Your Enemy
Counseling
Anger Management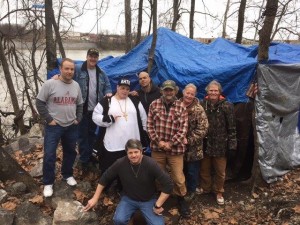 After successful completion of 30 days of programming and meeting essential needs related to successful reentry, we help our men secure employment. Employment is a critical component of a man's reintegration back into the community. Men of Valor has been blessed to establish some incredible employment partnerships in the Nashville area.
This provides some income, as well as an opportunity to learn and implement job readiness skills in order to develop a solid work ethic. In addition to work, residency at Valor Ridge also allows our men to participate in much needed re-entry programming the rest of the week.
Regarding employment, our goal is to help our men not just find a job, but also establish a career path. If you are an employer in the Nashville area who has a need to employ a hardworking individual who is willing to prove himself on the job, we would love to partner with you. When you hire a man recommended by Men of Valor, you are hiring a man with an accountability network behind him.
We see this job placement opportunity as a win-win. The employer is doing more than just hiring an employee; he is giving hope and investing in a life. The man is given a new start, self worth, and an opportunity to prove himself by moving toward independent living and becoming a contributing member of society. Companies must have solid, hardworking employees to succeed in business. Men of Valor program graduates are a blessing to the companies that employ them, and these men provide great benefits, including:
Built-in accountability structure
Follow-up services as needed
Lower turnover rates
Federal tax credits and bonding
Take a look at these Testimonials to read brief remarks from the various employers and companies who have hired our men.
For more information regarding the federal bonding and tax credit programs or to schedule an appointment to learn about partnering with us, please contact our Employment Coordinator.
Learn more about how to apply for residency at Valor Ridge.